Midwest Mission
Midwest Mission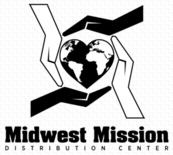 Midwest Mission Distribution Center provides opportunities for individuals and groups of all walks of life, denominational backgrounds, abilities, and ages to help provide disaster relief, education and medical supplies to those in need both locally, nationally and internationally. MMDC provides a "hands on" mission experience. For those receiving the supplies, we are bringing hope that someone somewhere loves them.
We are currently putting together two kits. The UMCOR Sewing Kit and the MMDC Health Kit. We need these brought in by June 5, 2016 so that we can drop them off at the conference.
Below are the items needed for each kit.
MMDC Health Kit:
1 hand towel (no kitchen, cleaning or microfiber towels)
1 washcloth
1 comb
1 metal nail file or fingernail clipper (no emery boards or toenail clippers)
1 bar of soap (3 oz. or larger)
1 adult-sized toothbrush in original wrapper
6 adhesive plastic strip sterile bandages (3/4-1' size, wrapped in rubber band)
$1 for toothpaste
All items should be new and unused. Place them in a new, one-gallon plastic zip bag.
Please include the cost of shipping for your donations and give the ingathering intake staff a check or cash for the shipping. Please do not put cash in each kit or item donated and/or bring item not listed on the ingathering.
UMCOR Sewing Kit:
3 yards of cotton or cotton-blend, solid color or print fabric (must be 3 yards of uncut & unwashed fabric)
1 pair sewing scissors
1 package of needles
1 spool of thread (match or coordinate with fabric & must be a minimum of 250 yeards)
5-8 matching buttons (not small shirt size)
Wrap sewing notions in the fabric and place in a sealed one-gallon plastic bag.